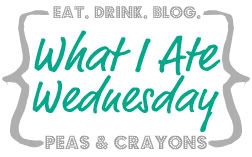 I'm pretty sure we buy at least 10 Chobani a week, you know, to help keep them in business.
Cartel Coffee with a side of family law final.
(had another orange later too!)
Caramel brownie Luna bar after the family law final. I was in a rush to get somewhere, otherwise I was totally wanting to make a salad with romaine lettuce, black beans, fresh salsa, balsamic, and mozzarella. I need to make this happen next week.
Not pictured: sweet treat during family law exam, 2 fistfuls of carrots and 2 hefty spoonfuls of Sunflower fresh ground peanut butter (nothing but peanuts, and you get to grind it yourself - we go though 1 tub every week!)
Pork chop steaks, green beans, and The Descendants with the hubby. Tomorrow = meetings, errands, and my first full day as a 3L! I can't complain!